Jump to: Becoming A Mariah Carey Fan - My Collection - Autographs - My Homepage
About Me and My homepage - Über den Author und diese Homepage
| | |
| --- | --- |
| Name: | Stephan Krebs |
| Geboren: | 24. November 1969 |
| Geburtsort: | Lörrach |
| Wohnort: | Brunnenstrasse 4/1, 79400 Kandern-Holzen |
| Telefon: | 07626/977376 |
| Größe: | 1,61 m |
| Gewicht: | 56 kg |
| Beruf: | Industriekaufmann |
| Hobbies: | Musik hören, Charts (Solid Gold (meine Lieblingshits)), PC Games, Radfahren, New York, mein New Beetle |
| Zeitschriften: | National Geographic, P.M., PC Games |
| | |
| --- | --- |
| Since I started listening music I was fascinated by music charts. The US charts became my favourite radio show. I wrote down the charts every week and I started to make my own daily charts (40 Places +10 Tips + Hit Of Today = Hot Top 40 +10 & H.o.T.). This daily charts is the base for my weekly chart Solid Gold. At the beginning I made my charts with a typewriter now I make my charts with my selfprogrammed MS-Access database. In this database I also manage my CD collection and all the charts listed on this site. Most chart data on this site is automatically calculated out of my database. | |
Here are some reasons why I'm such a big Mariah Carey fan:
The Voice: When she sings it's like magic...
The Lyrics: Noone can express feelings better than Mariah. I can't imaginge my life without such great inspirations from songs like Vision Of Love, Make It Happen, Hero, Anytime You Need A Friend, One Sweet Day, Breakdown... And Mariah also writes the most romantic lyrics in the world like Alone In Love, Can`t Let Go, Music Box, Underneath The Stars, Fourth Of July... And there such beautiful ballads like Love Takes Time, And You Don`t Remember, All I've Ever Wanted, Forever, Close My Eyes, Whenever You Call... What I'm trying to say is, I LOVE EVERY SONG SHE EVER WROTE.
The Music: Can there be sweeter melodies like Dreamlover, Fantasy, Always Be My Baby, Honey...
The Songs: It's not all about lyrics and music - it's the combination. Mariah always knows to combine this two.
The Albums: Mariah's albums are always like one unit. I never thought about changing the order of the songs when I was listening to one of her albums. Mostly I put the CD in the player, put on the head phones, close my eyes, press play and when I open my eyes again I enjoyd every song on the album.
The Remixes: Since I bought Make It Happen I just love listening to Remixes of Mariah's songs. Mariah always brings something new in the song. Sometimes she sings the songs completely new (Dreamlover, Always Be My Baby, Honey, My All) or adds new lyrics (My All/Stay Awhile).
The Person: Although Mariah's is one of the bestselling female artists of all time, she's a very down to earth person, always nice, sweet and friendly. I admire her strength and dedication to be a singer. She's a professional and exactly knows how her songs have to sound.
The Woman: Mariah is a very good looking female. This is maybe the biggest problem of a male MC fan. You say to someone you're a fan of Mariah and that someone looks at the picture and say "Now I know why you're a fan of her"...
The Fans: It's really great how loyal and dedicated the MC fans are. I love to surf from one to another MC site on the Internet.
The Concerts: For a very long I waited to see Mariah live on stage. I had the tremendous pleasure to see fourteen concerts and each one was an unforgettable event.
09.07.1990 - I heard Vision Of Love for the first time (On my favourite radio show: the US charts)
27.08.1990 - I bought the album Mariah Carey
02.11.1991 - I get the album Emotions
03.04.1992 - After buying the Make It Happen Maxi-CD I started collecting all her Maxi-CD`s.
04.06.1992 - I get MTV Unplugged E.P. before even seeing the show on MTV.
20.09.1993 - I get the album Music Box
18.11.1994 - I get the album Merry Christmas
23.09.1995 - I get the Maxi-CD Fantasy.
28.09.1995 - I get the album Daydream on the first day of release.
22.12.1995 - The concert at Madison Square Garden was screened on German television.
01.08.1997 - 14:52 MTV Europe broadcast the Video to Honey.
25.08.1997 - Honey. finally arrives in my CD Player
11.09.1997 - The day Butterfly spins the first time in my CD Player.
31.03.1998 - A dream came true - I saw Mariah Carey in person.
17.11.1998 - #1's spins in my CD-Player
10.12.1998 - Mariah performs I Still Believe at the Tonight Show with Jay Leno
05.02.1999 - The fabulous I Still Believe remixes powerd the first time on my stereo.
06.02.1999 - A American fan was so kind to send me some video tapes with Mariah TV, Oprah Show (1998), Mariah's 06.02.1999 #1's, WYC video and the Billboard Performance - BIG THANKS to Joseph!
05.03.1999 - I saw Mariah performing at "The Dome" in Stuttgart (Report / Bericht)
06.03.1999 - Mariah in Bottrop at the Lotto Show (Report / Bericht)
16.08.1999 - I heard HEARTBREAKER the first time (on the internet)
03.09.1999 - HEARTBREAKER premiered on MTV Germany
15.09.1999 - I got the HEARTBREAKER US promo single
02.10.1999 - The official German HEARTBREAKER got in my collection
30.10.1999 - RAINBOW !!!! spins the first time in my CD player
12.11.1999 - The Ultimate Fan Event! Mariah in Top Of The Pops (Read my report / Lest den Bericht)
20.02.2000 - RAINBOW CONCERT in Koln! (Read my report / Lest meinen Bericht)
23.02.2000 - RAINBOW CONCERT in Paris! (Read my report / Lest meinen Bericht)
11.04.2000 - RAINBOW CONCERT in NEW YORK (Read my Report / Lest meinen Bericht)
25.05.2000 - I was in the audience for the recording of Top Of The Pops with Mariah Carey.
26.05.2000 - Mariah performing at The Dome 14 and I was in the audience.
05.07.2001 - Mariah guest in the famous German talk show HARALD SCHMIDT SHOW and I'm in the audience.
10.09.2001 - The album Glitter sound out of my stereo the first time.
16.11.2001 - Another great experience: seeing Glitter on the big screen.
23.11.2001 - I saw Mariah in Munich.
02.11.2002 - I had a very nice weekend in Munich, Germany. Meeting Mariah THREE times! Read more below.
09.11.2002 - The Through The Rain single arrived.
02.12.2002 - Charmbracelet is here!
24.03.2003 - Mariah gave me the 10th autograph at the signing hour in Zürich, Switzerland
06.04.2003 - www.Mariah-Charts.com is my new own domain
10.04.2003 - I got the Ticket for the Charmbracelet Concert in Paris on November 04, 2003
25.04.2003 - I got the ticket for the Charmbracelet Concert in Zürich on October 22, 2003
22.05.2003 - I ordered the concert ticket for München
24.05.2003 - I ordered the concert tickets for Hamburg & Berlin
18.09.2003 - New York, Radio City Music Hall - Charmbracelet World Tour 2003 - Awesome!
06.10.2003 - The Remixes
For the following four concert dates I got a more detailed extra page.
10.10.2003 - Hamburg, Color Line Arena - Charmbracelet concert
13.10.2003 - Berlin, Max Schmeling Hall - concert in the first row, was it all a dream?
16.10.2003 - München, Olympiahalle - concert and Meet & Greet with Mariah Carey!
22.10.2003 - Zürich, Hallenstadion - concert in just 2 meters away from Mariah & I was at Mariah's aftershow party!
04.11.2003 - Paris, well it should have been the last concert of the Charmbracelet Tour, but...
07.11.2003 - Milan, the first six concerts were sooooo gooood so I got a seventh one.
19.03.2005 - Berlin, I had the great pleasure to attend the taping of MTV TRL.
19.03.2005 - Berlin, Velodrom. I saw Mariah leaving the hall. Can`t say what bugs me more - I didn`t got an autograph or that I just don`t care that I didn`t got an autograph
21.03.2005 - It`s Like That - the new single finally in my hands.
04.04.2005 - The Emancipation Of Mimi is mine
23.08.2006 - Concert: The Adventures Of Mimi at Madison Square Garden in New York
27.08.2006 - Concert No. 13: The Adventures Of Mimi in East Rutherford
11.04.2008 - new Mariah Carey album: E=MC²
02.10.2009 - new album: Memoirs Of An Imperfect Angel
19.11.2010 - new album: Merry Christmas II You
23.05.2014 - new album: Me.I Am Mariah... The Elusive Chanteuse
17.05.2015 - album: #1 To Infinity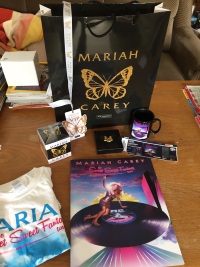 14.04.2016 - Sweet Sweet Fantasy Tour in München (Munich), Row 1 Seat 15! Fantasies can come true!!!
16.11.2018 - new album: Caution
02.06.2019 - Caution World Tour in Hamburg, what a fan-fest, it was AWESOME!!! best concert ever! AYNAF, #JusticeForGlitter, time of my life...



Click the thumbnails to enlarge


Klickt die Vorschaubilder an um zu vergrößern.
My Collection
To the left and right you can see
My Mariah Carey Collection.
On the photos you can mainly see my singles. I also got a lot Albums.
My
Glitter
Collection
My
Rainbow
Collection
My
Merry Christmas
Collection
| | |
| --- | --- |
| On March 24th I was in Zürich, Switzerland at an instore signing with Mariah Carey. Well, I have to say that this event was very bad organized. In the morning it still wasn`t sure where the signing takes place. Although the event should start on 14:00 h they began to prepare the restaurant (!) where Mariah should sign at 14:30 h. So the decoration was finished at 15:30 h. The lucky fans who get the VIP tickets met Mariah at about 16:00 h and only 1 minute for each fan. And the worst thing of all was we weren`t allowed to take pictures for Mariah! To make it even worse I was pushed to the table where Mariah was surrended by security guards. So the whole thing was pretty weird. I couldn`t decided which CD I´d like to signed. I layed the Charmbracelet booklet about the Mexican Promo of Boy (I Need You) on the table and let Mariah decide. So I looked at Mariah and wanted to say something when the two security guards said eagerly to me "only ONE autograph". So I watched Mariah sign the Charmbracelet booklet and heard Mariah say something like "oh look, he got the single". I took both and went away. When I get my camera and my jacket back I once looked Mariah signing something for the next person. On one side I`m extremely disappointed that once again I didn`t get my long desired photo of Mariah, but on the other side I`m very happy Mariah wrote "Love! Mariah" on the booklet and recognized I had a rare CD with me. After I got my sign I had the idea to take a picture from outside the restaurant. I had a good sight, but the security guard said "no photos and hold his hands before my camera". When I went disappointed away he called his chief and got the message "photos from outside are allowed". Too late for me, I lost my good place on the window and the picture below is the best of three blurry pics I got. | |
| Am 24. März war ich in Zürich, Schweiz bei einer Autogrammstunde mit Mariah Carey. Nun, ich muss sagen das Ereignis war sehr schlecht organisiert. Am Morgen konnte noch keiner sagen wo die Autogrammstunde eigentlich stattfindet. Obwohl die Autogrammstunde um 14:00 Uhr beginnen sollte begann man erst gegen 14:30 Uhr mit dem Räumen des Restaurants (!) für die Autogrammstunde. Die Dekoration dauerte bis 15:30 Uhr. Die glücklichen Gewinner des VIP Tickets konnten erst um 16:00 Uhr zu Mariah und sahen sie ungefähr eine Minute. Das schlimmste war dann die Nachricht "Es dürfen keine Photos gemacht werden" als Mariah um 16:00 Uhr ankam. Von den Sicherheitsleuten wurde man regelrecht an den Tisch mit Mariah geschoben. Man sah Mariah erst als man direkt vor Ihr stand und vor dem Tisch standen nochmal zwei Securities. Da ich mich nicht entscheiden konnte was Mariah abzeichnen sollte, legte ich das Charmbracelet Booklet mit der Mexikanischen Promo zu Boy (I Need You) auf den Tisch. Als ich gerade was zu Mariah sagen wollte ermahnten mich die zwei Securietes "Nur EIN Autogramm!". Ich sah gerade noch wie Mariah das Charmbracelet Booklet signierte und hörte Sie noch etwas über meine Promo-Single sagen. Ich nahm das Booklet und die Single wieder zu mir und ging. Während ich meine Jacke und die Kamera zurückholte warf ich noch einen Blick auf Mariah wie Sie dem nächsten etwas signierte. Einerseits bin ich schrecklich Enttäuscht wieder kein Bild von Mariah machen zu können, andererseits bin ich überglücklich Mariah schrieb dieses mal "Love! Mariah" und hat meine besondere Single erkannt. | |
On March 31st, 1998 I was at the CD signing at Saturn Record Store in Koln (Cologne), Germany. Click here to read the story how I got it.
Am 31. März 1998 war ich bei der Autogrammstunde im Saturn in Köln.
My favourite autograph I got on November 12, 1999 in Koln, Germany at the Top Of The Pops recording.
Click here to read the story.
Mein Lieblingsautogramm bekam ich am 12. November 1999 in Köln bei der Aufzeichnung von Top Of The Pops.
Hier könnt Ihr die ganze Geschichte lesen.
This autograph gave me Mariah after the recording of Thank God I Found You in Top Of The Pops on November 12, 1999.
Dieses Autogramm gab mir Mariah nach der Aufzeichnung von Thank God I Found You in Top Of The Pops am 12. November 1999.
These two autograph I got at Top Of The Pops on May 25th, 2000 in Koln.
Diese zwei Autogramme bekam ich am 25. Mai 2000 in Top Of The Pops.
This one gave me Mariah after the Harald Schmidt Show in Koln on July 05, 2001.
Dieses Autogramm gab mir Mariah nach der Harald Schmidt Show in Köln am 05. Juli 2001.
This one Mariah gave me when She came out of the hotel Mandarin Oriental in Munich on November 02, 2002 at about 15:30 h. Though didn`t had the promo I thought a long time what CD I wanted her to sign. My All/Stay Awhile is my favourite remix ever. Click here to see the photos I took.
Dieses Autogramm gab mir Mariah als Sie aus dem Hotel Mandarien Oriental in München am 02. November 2002 um 15:30 Uhr herauskam. My All/Stay Awhile ist mein absoluter Lieblingsremix. Klickt hier um meine Photos zu sehen.
When Mariah came back to the hotel after the recording (about 23:00 h) of the SKL Show Mariah signed my US DVD of

Glitter

.
Als Mariah von der SKL Show zurückkam (ca. 23:00 Uhr) signierte Sie mir die US DVD von

Glitter

.
On Saturday (Nov 2, 2002) someone said Mariah would leave town at Sunday morning. So I decided to wait to see her again. Well, on Sunday noon Trey Lorenz and her assistant Michael told Mariah stays until about 18:00 to 19:00 h. So I had a nice Sunday with some fans from Holland and we had a lot fun. Is it odd to let her sign the Greatest Hits cd? Not any more special CD. But the Greatest Hits cd contains the music that accompanied me for the past 12 years. Maybe Mariah also thought because I think it's the most beautiful writing I have from her. Thank You, Mariah.
Am Samstag (02. Nov 2002) wurde uns gesagt Mariah würde am Sonntag Morgen München verlassen. So entschloss ich mich Mariah auch noch zu verabschieden. Nun, am Sonntag Mittag sagte uns Trey Lorenz und Ihr Assistent Michael dass Mariah nicht vor 18:00 Uhr abfliegen wird. Ich hatte einen sehr schönen Sonntag Nachmittag mit ein paar Fans aus Holland. Wieso die Greatest Hits CD? Keine speziellere CD? Nun, die Greatest Hits beinhaltet die Music die mich die letzten 12 Jahr begleitet hat. Vielleicht hat Mariah meine Gedanken gelesen, ich finde dieses Autogramm sieht besonders schön aus. Danke Mariah.

Since May 1996 I`m surfing the net. My first visit was of course the official Mariah Carey site at www.Sony.com. When I discovered how great pages some fans have made (Vision Of Love) I felt the strong need to make my own dedication to my favourite singer. I knew I didn't have access to exciting Mariah news and not much web space to make a big picture gallery. So it was very natural for me to show some of Mariah's chart data on the internet. In October 1996 I uploaded the first version of my homepage on the net. Since then I have hundreds of hours fun making this page. During this past year I though a lot about giving up. I was really shocked when Butterfly wasn't released as a single in the US and Mariah's presence in the charts weren't that good as I thought. After the media attacks of 2001 this all doesn`t matter anymore. I have fun listening to Mariah`s music and being a Mariah Carey fan. Nothing else matters.
In September 2000 I was forced by a stupid pc error to move my homepage from members.aol.com to Metropolis.de.
My homepage contains about 200 text files and hundreds of pictures. Now the homepage is spread on servers at Metropolis, CompuServe and AOL. This homepage is about 50 Megabytes big.
In April 2003 I moved my homepage to my own dot.com www.Mariah-Charts.com with 85 MB space.
Some stats:
| | |
| --- | --- |
| First Upload: | October 1996 |
| 100th Visitor | September 1997 |
| 1.000th Visitor | April 1998 |
| 2.000th Visitor | August 1998 |
| 3.000th Visitor | December 1998 |
| 10.000th Visitor | August 16, 1999 |
| 15.000th Visitor | October 13, 1999 |
| 34.000th Visitor | July 19, 2000 |
| 52.222nd Visitor | September 04, 2001 |
| 60.000th Visitor | February 2002 |
Best Month:
October 1999 with 3.671 visitors (average 1.701)
Yearly stats:
2001: 15.659 visitors
2000: 22.891 visitors
1999: 17.043 visitors
1998: 02.788 visitors
Updates:
Latest Chart Positions And Anniversary over 2.400 times between August 1997 and April 2016.
Due technical problems the data of other artists are not very often updated. Maybe you have noticed that some chart tables are messed up. The data is always correct but my database has an issue to sort the lines in the right order.
More infos about updates you can find at my Updatelog.

Updated: June 06, 2019