RAINBOW TOUR in NEW YORK
von Stephan Krebs - SKrebs@AOL.com
On April 9th, 2000 at 13:35 h I and Mario (MP) are flying from Bale (Basel) to Frankfurt. Our first flight ever. On Board of the Boing 747-200 from Frankfurt to New York we tested the radio channels. I thought MP is making jokes when he said Mariah is talking on channel 6. It's the end of an exclusive interview for Lufthansa. Then they're playing the "Make It Last Remix" of "Thank God I Found You". A few minutes later on channel 5 comes the "Make It Last Remix w/o Rap". In the Lufthansa magazine the interview with Mariah is mentoined along with a photo. Since the programm will repeat every 2 hours and our flight takes 8:10 h we look forward to the repeating. Sadly most radio channels broke down after the take off. We ask a stewardess to fix it, but nothing happened.
At 19:20 h New York Time (01:20 h our home time) we land at JFK Airport in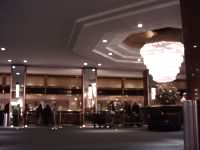 New York and take a taxi to the hotel. Our friend Uwe already awaited us at the Pennsylvania Hotel. He already if it's true that Mariah once worked in this hotel and got a positive answer. Mariah once worked at the reception desk. And Uwe has even better news. He already saw Mariah at the backdoor of "The Theater" of the Madison Square Garden where currently "Divas Live 2000" is recorded and Mariah's dressing room is at a bus behind The Garden. In a hurry we bring our luggage to the hotel room and walked across the street to The Garden. Beside us there are only a few other fans waiting for Mariah. Trey comes over and talked to us a few words. Uwe has made a beautiful banner (2m x 1,50) which says "Greetings From Germany - We Love U Mariah". As Mariah comes out we hold it up and I think Mariah sees it. Only this evening it was very cold and windy (snow in the afternoon) and Mariah said something like "Sorry Guys. It's way to cold to here." Mariah disappeared in the bus and we waited for about 30 minutes of her return. At 23:30 h (05:30 h our home time) we decided to go to the hotel because we were too tired and it was too damn cold here.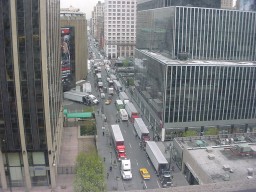 On the next day we do some sightseeing. The sight from the Empire State Building is indiscrebable. On the day of the concert we first look to get the tickets which we ordered by www.ticketmaster.com on Feb 14, 2000. After a walk through the city we take a break in the hotel. At 18:00 h we go to the Madison Square Garden to buy some tourbooks, T-Shirts and for myself I buy Mariah's favourite animal - the cuddly toy "Lamb Chops". Since the hotel is very near we decide to bring back our just bought fan articles back to the hotel. At the lobby of the hotel a man asks us if we want to buy tickets for the concert this evening. Now we have not that good tickets (Section 427) and he offered us tickets for section 336. The ticket is printed as 74,50 $ and the man just wants 50 $! We take them.Uwe is frustrated his ticket is in section 337, 8 rows behind us and he paid more 3 times more than we. All the panic of getting a third ticket for Uwe was in vain and too much expensive.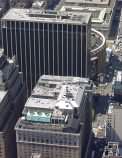 Happy about the better tickets and joy about the forthcoming concert we go back to the MSG. The security at the entrance was very lazy in comparison to Koln and Paris. Which leads me to difficult decision. It would be no big problem to get back to the hotel and coming back with my camera using the old ticket. I decide not to take the camera because it's an expensive one and I was afraid of they would take it away or it gets damaged during the concert. The main reason for my decision is I'm afraid I couldn`t enjoy the concert with the camera in my hands.
As the lights go out the audience got really loud and the sound was overwhelming. The first sounds of "Funkdafied" and Da Brat gets welcomed with a loud applause. Da Brat knows how to make the crowd go wild with hot raps. She even goes in the crowd to rap and makes audience to cheer her name. Sadly her show was only about 15 minutes long. At the stage a DJ (DJ Clue?) plays some hot tunes. With Santana's No. 1 hit "Maria, Maria" everybody sang along.
After a short break the lights are going out and on the screen you can see the story of Mariah and Bianca (all videos were played back to back, not like in Koln and Paris between the songs). Now a big rainstorm is on and after that Mariah appears like a Rainbow at the center of the stage. Mariah does like always "Emotions" to start the show and is now greeting the audience. The playlist is much the same as in Koln except "Make It Happen" is not sung. When the boxfight is on Mariah is walking through the audience while Da Brat and Missy Elliott (!!!) is rapping on stage. At the performance of "Always Be My Baby" Mariah's left hi-heel is breaking. She takes it with a smile and someone helps her to get out of the damaged shoe. Mariah throws the shoe in the audience and is continueing to perform "Always Be My Baby" without a break in one shoe and on tippy toes. At the eating with fans the crew smuggled some oysters on stage. Mariah laught and said something like "Oh Dear! Oysters! I will never eat this thing again." Mariah brings the oysters back and gives chocolate kisses to the girls invited on stage (why only girls?). One girl could help but crying. Mariah gives her extra hug and allowed to take a photo of this moment. Vocally Mariah is in top form. Mariah hits every high-note and managed to get through all difficult passages of her songs very good.
My personal high of the show comes when Mariah does "Can`t Take That Away (Mariah's Theme)". Mariah shows why this song is also known as "Mariah's Theme". Mariah sings it with all her heart and soul. When Mariah drops to her knees towards the end of the song I got goosebumps all over and wet eyes. Never before I heard Mariah as this before. Her voice is so powerful and overwhelming. This song alone was worth the stress and money I spend getting to New York. MARIAH IS THE BEST!
Before the concert we decided to go down during the performance of "Honey" to be nearer to Mariah at the encores. We're on the way. At the top of the first balcony a very angry security person approaches to us. I decide to go back a bit and sits down on a place of someone who already left the building. From this position I enjoyed the rest of show - "Vision Of Love" and "Hero". I was now about 30 meters away from Mariah at least from this position I could recognize Mariah's face without looking at the big screen. This moment was nearly as good as the one of "Mariah's Theme". I was completely mesmerized.
When the lights go on I can`t see any of my friends and decides to back to the hotel. Half a hour later the two other guys arrived and telling about seeing the Backstreet Boys, Sisqo and Christina Aguilera (VH1 "Men Strikes Back" was recorded that night at "The Theater".). We watched the end of the "Divas Live 2000" on VH1.
Afterwards I think my decision was right not to get the camera in. Never before I had so much fun like in this two hours of the concert. Even the German visitor beside us couldn`t stop our fun. It was kind of bizarre: You are in a concert at the Madison Square Garden and a visitor from Germany complains about we singing along too loud. Of course we wanted to hear Mariah too and sang along when we liked to. And when Mariah points the mic in the audience it's clear what is to do. The other thing that bugged me is like in Koln we were in a corner with no other true Mariah fans. I think we were the only ones with Mariah T-Shirts on and we were the only ones to know the raps to Fantasy, Honey and Heartbreaker.
Of course we searched several record stores we discovered for Mariah CDs. Although they had more than most of the shops in Germany there was little new for me. They even had such rarities like "Never Forget You", "Fantasy", "My All/Stay Awhile" and the 2 UK versions of "Heartbreaker". I was happy to find the 2 versions of "Thank God I Found You", the video "#1's", the video "Around The World" and the DVD "#1's". Until now I can't watch US videos and don`t have a DVD Player.
We were at SONY Building a few times. For a few minutes we listened to Rainbow in the sales room and stood a few minutes before the monitor which was playing "Fantasy: Mariah Carey At Madison Square Garden" at the Sony Wonder Technology Lab. And I discovered the official Mariah Carey site by Sony isn`t working on their public internet PCs because of the pop-window.
After a week of fastfood and miles long walks through the fastest, loudest and most sleepless city of the world we went back to home on 16.04.2000 with empty money pockets and full suitcases. On the flight back to Germany we were finally able to hear the entire interview. Mariah spoke about her plans for the year 2000. Touring and the movie "All That Glitters". When Mariah was asked why She is a pop singer not a opera singer. Mariah said she admire the discipline you got to have as an opera singer and maybe would have this discipline, but She likes to write and sing her own songs. And aries you have to sing always the same perfect way note by note. Her own songs She can sing the way She wants.
A trip I will surely never forget. I'm already dreaming of going to New York again. But this thing was very expensive and I will have to wait what my credit card bill is saying...
Many thanks to:
MARIAH! - What can I say? It was like my wildest dream come true! MARIAH YOU ARE THE BEST!
Mario - My best friend. It was sooo great. Let's do it again.
Uwe - "Oooojee!". Wasn`t it funny? Next time no Statue Of Liberty.
Lufthansa - I survived my first flight ever without getting ill. Thanks for the great interview on board.
Pennsylvania Hotel - For good and cheap place to sleep.
McDonalds, Burger King - for the cheap food and way too cold Coke.
Virgin Megastore und Tower Records - A few days longer and my bank account would have been empty.
Sony - With my Digital Still Camera I was able to make some exciting photos.
All the nice and friendly citizens in New York who help me get through this big city.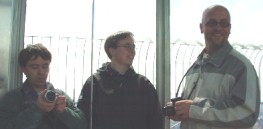 Stephan Krebs - SKrebs@AOL.com
19. April 2000