Mariah in Lotto Show in Bottrop am 06. March 1999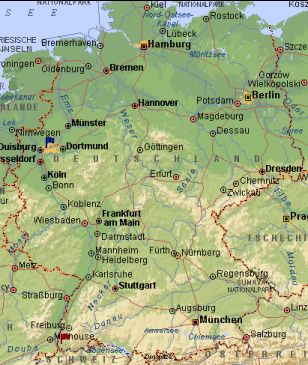 First I want to say just read the whole story or at least the end.
Like I said on the report about The Dome I want to say that we planned before we knew about The Dome to go to Bottrop. Unfortunately the Lotto Show is only big on TV not in a big studio (only 530 seats). Additional most of the tickets were not sold but give away to winners. So there it was almost impossible to get tickets. But we decided to go and wait for Mariah. If it's only to show how much we love and maybe an autograph or a chance to talk to her.
After a big breakfast at the hotel in Stuttgart we went on the road at 9:30 h. We thought to arrive in Bottrop in early afternoon and check out the local situation. Then we thought to watch out for a hotel to stay the night. But it was only a plan. Between Stuttgart and Frankfurt we were stuck in a traffic jam over 8 km. We ate a sandwick somewhere on the road and on 14:30 h and 486 km later we parked by the Warner Bros. Movie World the Lotto Show takes place. At the back entrance to the studio areal were already like 15 fans waiting. We greeted each other and soon it was clear that we didn`t get lunch and no hotel room for the night. It was freezing cold and we stood there talking about Mariah.
On 16:00 h the first Limos arrived and we were ready to with photos and CDs getting signed by Mariah. The cameras were also always ready. Every few minutes arrived another Limo but no sign of Mariah. Then at 16:30 h we saw from far away two big Limos nearing. In the first one we there was only the driver and the second one had darkened windows. Just when cars passed the door we saw a hand waving out of the window. It was MARIAH! The cars disappeared somewhere in the studio area. We screamed Mariah's new as loud as we can. But all what happend was the dogs from neighbour area began to bell. This was not the way we thought it would happen. We waited and freezed patiently waiting for some better happenings. We won`t go before Mariah goes. The man at the gate was very kind, but he no connections to Mariah's security or the managers of the studio. At 19:00 h someone said 10 fans can come in and watch the show. But who can decide which of us 17 can go in and who not. Time went by and on 20:15 h the show began. Now someone told us if we write down our adresses and shows are papers we come in. Another promised that had been broken. It was 21:00, 21:30, 21:45, 22:00 and nothing happened. My friend told his mother to phoned him on his cell phone when Mariah is on stage. At 22:20 h we discovered that the show got more than 20 minutes late and our VCRs at home will not record Mariah's performance. This could be the first time I missed a performance by Mariah on German TV!
At 22:30 h Mario's cell phone ringed and we could hear Mariah sing through the cell phone. Now we made us ready for Mariah driving out of the studio area. Time went by very slow. At 22:45 h the first limos drove through the gate. Two fans from Stuttgart were holding a big banner with the words "Mariah - We Love You" alongside the road Mariah's limo supposed to drive. Finally the limo's with Mariah came towards the gate. The cars didn`t stopped and in the second limo I saw Mariah waving for a few milliseconds. I waved back and other fans try ran beside the car. Seconds later the limos disappeared in the dark and we all stood there numb and speechless. We said goodbye to the other fans and took two of the many "Welcome Mariah" posters off the lamp-posts. After a few minutes sitting silent in the car I started my car and drove away. Like five kilometers later we discovered that we had no plan which way to drive home so we searched a parking lot to study the map. I decided to drive safely and much slower than on the way to Bottrop. At 01:00 h we ate a sandwich at a gas station and for the next 250 km Mario was behind the wheel. At 03:00 h Mario said he can`t drive no more, because he's to tired. It went to be the longest night of my life while I was driving and the street signs was counting down very slow towards home. Basel 390 km, 380 km, 370 km, 360 km. I don`t think if I were able to drive home if there was as much traffic as in the morning.
In that night we drove 595 km and finally arrived at home on 05:30 h in the morning. Mario took his bags in his car and went away drive his last 30 km home. Like I expected it my video didn`t recorded Mariah's performance. I checked out the TV guide with a little luck I discovered the rerun of the show on 06:00 h. Due I only got radio and no MC or CD in my car I couldn`t wait to hear Mariah's voice and took US Single of "I Still Believe" in my CD player. 45 minutes I woke up with a hurting neck sitting in my chair. I went to bed on 07:05 h just after my VCR started to record the Lotto Show. At 12:00 h I woke up and was curious if I now can watch Mariah's performance. And to my relieve it worked.
Although this thing seems to be really depressing I think I will always remember Mariah's waving hand at the arrival and this short moment I saw her inside the limo. And I hope Mariah was pleased to see and has a small idea of how much we love her.
Greeting to all the other fans that waited that cold afternoon in Bottrop. It was great to see so many other dedicated Mariah fans. Especially to the leader of the inofficial German Mariah Carey Fanclub.
08. March 1999