Mariah Carey in Cologne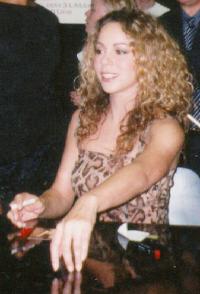 March 31st, 1998 - Saturn Record Store, Hansaring 97
Here`s the story how I met Mariah
Getting Started
Long Way To Go
In Cologne
Waiting For Mariah
THE Moment
On The Way Home
The Day After
Getting Started
On Tuesday, March 23st I read on my favourite Mariah Carey webpage that Mariah is coming to Cologne for a CD signing hour. I immediatly thought this is my chance to make my dream come true. The next day I called another Mariah fan and he said we have to go. But soon we discovered that riding by train is very expensive and it would take at least 5 hours with the car to get there. Another problem was that both of us could only get the day for the signing free at work and not the day after, so we had to drive the distance in one day. The most kilometers I drove in one day were like 200 - so didn`t have any idea if could drive that distance. On March 27th I heard Butterfly in the morning. When the song Whenever You Call came on, I was totally sure there is no other choice then to go.When my friend called me I said "We`ll take my car".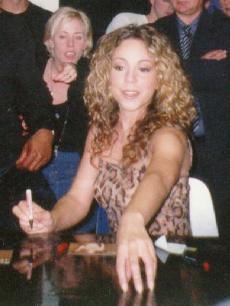 Long Way To Go
After a almost sleepless night my friend arrived and we are getting started at 5:30 in the morning. At 6:15 am we picked up another fan. I got the luck that there was not that much traffic as I expected, so we arrived in Cologne at 11:15 am. Although noone of us never was at Cologne before, we found the CD store very quickly.
In Cologne
The decoration of the Saturn CD store was amazing - everywhere posters of the Butterfly album cover, big signs that said Welcome Mariah Carey, butterflies hanging from the ceiling, a big video wall showed Mariah Carey videos and of course Mariah`s songs were in the air. We checked out the CD-racks and I found the single Just A Memory by 7 Mile at the import section. They didn`t have much Mariah articles. So I was a little bit disappointed, because I expected to get a T-Shirt or an CD that I didn`t have. They have hundreds of Butterfly CD`s, but I think anyone who would come to get an autograph already have that genius album. I never was in such a big record store - in my hometown only the biggest supermarkets are as big as this CD store. At 12:30 we went into town to get lunch.
Waiting For Mariah
At 13:45 we were back at the store where now over 30 fans were already in the queue for the signing. At 15:00 Mariah was at the famous german music channel Viva. They showed the show on the video wall. Unfortunately they didn`t manage to get the right loudness, so we couldn`t understand anything of what Mariah was saying in that one hour show. They showed the My All video for the first time on German television. At 17:45 they started to play the Butterfly album over some big speakers.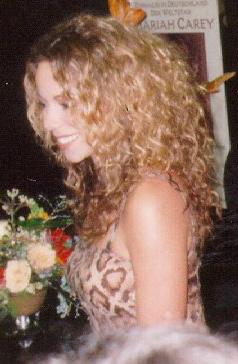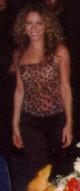 Mariah Is Coming
We expected Mariah at 18:00. At 18:10 someone told us that Mariah is stuck in the traffic and will arrive in 4 or 5 minutes. While the bonus tracks of the Butterfly album was playing we discovered Mariah`s bodyguards. At 18:55 their were flashes behind the curtain and we knew that can only mean Mariah Is Coming. The curtain was opened and Mariah came through. SHE looked gorgeous. The hair was curly like at the Blockbuster awards and SHE was wearing a leopard coloured top (I only saw the upper have of HER body, so don`t ask me what skirt she was wearing). MARIAH walked around the front row and touched some reaching hands (damn I was in the 2nd row). As Mariah sat down behind the table someone started to sing Happy Birthday To You and we all were singing along. This was a very funny moment: hundred fans singing for their favourite singer a song.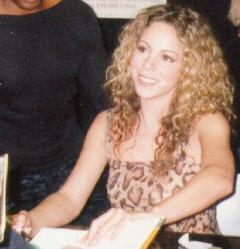 THE Moment
Mariah started signing CD`s, pictures, posters or whatever people want to sign her. As I came in the front row I was able to see Mariah, a sight I will never ever will forget. The signing goes very fast, I made my Butterfly booklet ready and soon it was my turn. The security man said She`ll only sign one item and please hurry. Three steps and I was standing in front of Mariah. While Mariah was talking to someone behind the table she already signed a card and pushed it over to me. I said something like Hi Mariah took the card and went away. It all happened so fast that I wasn`t able to say the sentence I figured out over last few nights. First I was totally confused see Her talking to someone else while I was coming, then She signed a card instead of the CD I was holding now for over 5 hours standing in the queue and not to forget - I was really nervous and excited. Despite the meeting hasn`t turned out as I planned it, I`m totally happy that I was able to see her in person and get a signed card. Mariah was so nice and friendly... She`s an angel.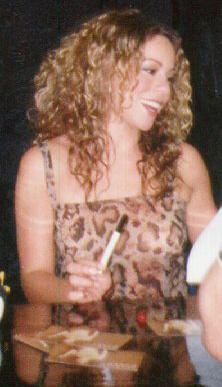 On The Way Home
Meanwhile it was 19:10 and the three of us were on the way to the car. All of us were overwhelmed by what happened just a few minutes before and we agreed that the time was too short. The parking fee was very high (you could by an album CD for that price). I drove home with only a pause of 10 minutes to tank fuel. At 0:30 and 506 kilometers later I was at home.
The Day After
On April 1st I woke up at 7:30 am. I told my boss that I`m coming later than normal (7:00). At 9:00 I was at work (with my body, not with my mind). The first days of the month are always the hardest, so it was really struggle to finish the day at 16:00. At home I immediatly put on the Butterfly CD in my CD-player.
At 18:00 a report from the record signing was shown on national television. I still couldn`t believe that I was really there.
Although this adventure was really exhausting and every non-Mariah fan now thinks I`m crazy - I would definately do it again.
BTW the photograph were taken by my friend Mario (great name for a Mariah fan), the background is a pre-printed card, my original autograph is behind glass where it stays From Now Until Forever.
April 14th, 1998
Mariah in Cologne, March 31st 1998

All pictures were taken by my friend Mario while I was standing beside him.

433x725
27 kb

390x360
26 kb

330x388
20 kb

263x286
14 kb

Since June 13, 1999