Against All Odds (Take A Look At Me Now)
Mariah Carey
The + behind the date in the column Last Week On Chart indicates still on the chart. Find out the exact positon on Latest Chart Positions And Anniversaries site.

Updated: 18.09.2001
| | | |
| --- | --- | --- |
| | Against All Odds (Take A Look At Me Now) | |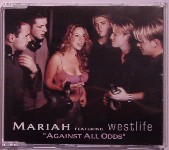 The 3rd single from the Rainbow for Europe and Australia
Release Dates:
Germany: May 29th, 2000 (Mariah only)
Germany: September 18th, 2000 (Mariah Carey feat. Westlife)

Brasil chart run is not complete: Add at least 12 weeks before the entry and at least 3 weeks more for missing weeks..

All chart data from September 2000 on is by the duet version with Westlife.

Year End Charts of 2000:
Ireland Singles: No. 8 - Against All Odds feat. Westlife
Switzerland Singles: No. 93


red = Number One position


The numbers in the brackets indicates how much positions are listed. If there are no brackets I got the whole charts (e.g. Billboard Hot 100 Singles (50) = 50 positions, European Top 20 = 20 positions).
---
Here is the full list of charts that are listed regularly on this site.
---
The Gavin Charts are based on Airplay by U.S. Radio Stations.
Jam FM = German R &amp B radio station
Get my personal charts called Solid Gold.